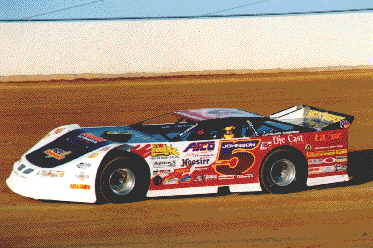 RJ Motorsports




FOR IMMEDIATE RELEASE


JOHNSON-WRIGHT DUO REKINDLE OLD RELATIONSHIP FOR TEAM

(Chattanooga, TN - January 22, 2001) What do you get when you pair a former 2-time Dirt Track World Champion racer along with one of the most successful dirt racing chassis builders of the past few decades? No one can be certain of the answer, but it's the hopes of Ronnie Johnson and Barry Wright to shed some light on that subject during the 2001 racing season. Johnson, the personable veteran known by race fans across the country as the `Chattanooga Flash', will team up with Barry Wright Race Cars for much of the forthcoming campaign. Wright's operation, based in Cowpens, SC plans on making the concerted effort with Johnson for all of the major dirt late model events slated for the 2001 season.
"Barry and I have talked about working together in this manner for a while now," said Johnson from his Chattanooga, TN home. "We've always kept in touch, but this will give both of us a good chance to communicate at the track and work together on the cars as a team more often. I'm really looking forward to it."
Although, as Johnson notes, the pair has seen success with several wins in the last year or two, it will be the first time the talented driver/chassis manufacturer tandem go to work on a regular basis since Johnson was teamed with Scott Bloomquist in Barry Wright Race Cars in a two-car operation in 1996. During that period the pair of Johnson and Wright proved successful with a third place finish in the national championship standings, contributing to Wright's claim to the National Chassis Manufacturer's title on the then Havatampa Racing Series. Following that season Johnson has remained at the helm of a self-owned racing program while Wright chose to limit his travels in order to provide technical support to the customer base of Barry Wright Race Cars and attend to his chassis manufacturing and powder-coating business from the home office while also opting to spend more time with family near his Spartanburg, SC home.
"We think that our relationship together should produce some exciting results and put both of our programs back on track," added Johnson with enthusiasm. "Barry and I have always been able to work well together and his presence at the track where he can get a first-hand understanding of what his cars are doing will really help us out. Barry surrounds himself with perfectionists, so there is no question about the quality of his products. They are proven winners."
The Johnson-Wright connection will concentrate on higher profile dirt late model events without focusing on any particular series or sanction. In addition to the team's efforts, Johnson will also campaign his own equipment in limited outings throughout the season.
"I'll still run my own car out of my shop in Chattanooga from time to time, primarily in races closer to home while Barry and the team he has assembled will house the team cars in his shop in Cowpens (SC)," Johnson continued.
The team has chosen to use Clements Racing Engines from nearby Spartanburg, SC to power their mount.
"Not only is Clements located near Barry's shop, but we already have a good working relationship in place with all of the people there, as I've run their stuff for the past four years," points out Johnson.
Although the pair is actively seeking additional sponsorship in their pursuit of their plans for the season, they have already garnered some support in an associate sponsor in the way of Commercial Electric Company of Greensboro, NC where Steve Ellison's range of operations go from wiring single dwelling homes to specialty projects such as wiring the recently completed Keenan Stadium in Chapel Hill, NC and a fiber optic project for the state of North Carolina.
Also on board is Shane Peebles of DES Fabrication, an Inman, SC company that specializes in the design and fabrication of staircases for custom built homes in the upstate area of South Carolina. The team has also obtained product support from numerous companies involved in dirt track racing.
"One of the fortunate things that Barry and I are proud of are the many race car parts manufacturers and distributors who believe in us and have agreed to join us in this effort," Johnson explains. "AFCO Racing Products will continue their involvement as they have in the past. We will be using their springs and shocks along with Hoosier Racing Tires and VP Racing Fuels exclusively."
The first outing for the new duo will come at Brunswick, GA during the opening weekend for the UDTRA Pro DirtCar Series at Golden Isles Speedway. Johnson has picked up a pair of his 18 career wins on the tour at the coastal Georgia five-eighth's mile track and feels that it is as good a place as any to debut the combination.
"It's a fast track that Barry and I both have had success at in the past," Johnson commented. "I've won a couple of big races there, and Barry has won there before with other drivers. I think it should give us something to build on. After Golden Isles we will concentrate on Speedweeks at Volusia Speedway Park near Daytona Beach, Florida in a unique way. I'm going to race my equipment during the UMP sanctioned events early in the week, then Barry and I will unload the team car for the UDTRA portion of Speedweeks," explained Johnson. "This should allow us to keep our equipment better maintained by spreading the workload some. After Volusia we plan to finish out the month of February, with the team car, at Green Valley Speedway in Gadsden, Alabama at their Southern All-Star sanctioned event."
In addition to his pair of Dirt Track World Championships (1992 & 1994), Johnson has racked up an impressive career win total that exceeds 400 victories, including three championships on the Southern All-Stars Series. Last season among his five major feature wins, Johnson claimed the winner's spoils in both the Alabama and Georgia Championship races. Johnson is a former three-time Tennessee State Champion and is highly respected by his competitors and fans as a leading ambassador in the world of racing.
"There have been a lot of positive changes in dirt racing in recent years. The competition level has been raised dramatically. By combining our resources we believe that we can get back up to speed and capture some of the winning ways that we have both known," said Johnson with his patented smile. "There's going to be a lot of money on the line this season, with the million dollar race at Eldora, plus all of the other big races and even though we expect to go through a learning curve while building a new team, we hope to be able to pull off some wins."
In addition to the team's trip to the "Eldora Million" in June, the team will set out to "Do It The Wright Way" at other high-profile events including the "Show-Me 100", selected UDTRA events (including the dirt-covered Bristol Motor Speedway and the UDTRA Shootout), the "Topless 100", "World 100", "National 100", "Dirt Track World Championship" and other special events with various sanctioning bodies.
Besides Johnson and Wright, the team will be made up of a group that will include Jamie (Cotton) Owens, who has worked in Wright's chassis operation for a number of years, and along with "Sleepy" Keever will be responsible for the car and equipment preparation throughout the racing season.
Ron Cayton, Shane Pebbles and Rody Dachenhauser will also be among those who will take part in the preparation, maintenance and travel during the 2001 racing season.
Said the professional driver known throughout the pits and grandstands simply as `RJ', "Aside from the team's goals, it would sure be nice to score a big one or two for the many fans who have supported me over the years. Another sponsor or two would go a long way towards helping us achieve what we're shooting for. We all plan to put in our best combined effort and enjoy ourselves while we take part in our passion for racing."
And that about sums up the tremendous success that both Johnson and Wright have attained in the past - the old equation that hard work yields positive results. With this team burning the midnight oil and traveling America together anything could happen. But regardless of the bottom line or the number of wins, one thing is for sure - they'll have a lot of fun `Doing it the Wright way'.

| | |
| --- | --- |
| | - End - |



Contact - Victory Lane Communications, Inc.
(770) 479-7630
victory.lane@prodigy.net



or